Post by VANESSA RENEE MENELDUR on Nov 25, 2012 2:53:46 GMT
Vanessa Renee Meneldur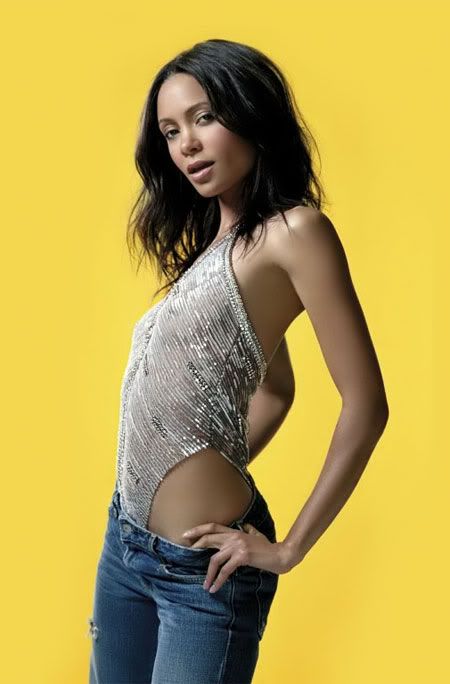 [/style]
[style=width: 85px; letter-spacing: 2px; border-bottom: 2px solid;]BASICS[/div]
FULL NAME: Vanessa R. Meneldur
NICK NAMES: Nessa
AGE AND BIRTH DATE: 27, 15/07/1985 or in words
SEXUALITY: Straight
NATIONALITY: African American
MEMBER GROUP: Bandit
[/font] [/blockquote][/blockquote][/justify]
STYLE AND APPEARANCE
HAIR COLOUR AND STYLE: Black, straight mid-length shoulder sweep cut,
EYE COLOUR: Brown
BUILD: Slender
HEIGHT AND WEIGHT: 5'6'' 130
TATTOOS: Butterfly, on back of right shoulder
PIERCINGS: ears pierced
SCARS: n/a
ANYTHING ELSE:
OVERALL APPEARANCE: She still clings to her old life through her clothing a bit. She loves a chance to wear flouncy dresses and fluffy skirts. However she recognizes the danger of it so often wears jeans and an at least somewhat practical top. She still finds time even in this bleak situation to paint her nails with her kid sister.

She ties her hair back in a bun when it's long enough but usually cuts it short when she gets the chance. She normally looks pretty well put together minus the blood stains which are impossible not to get on any given day. She likes bright colors and jewel tones.

She has a keen face you tell that she's always thinking and planing. It's not a sinister look but it can make some people uneasy. She has perfectly straight teeth because she had braces as a kid. It makes her laugh a little all those years she suffered as a metal mouth only for the world to go to crap. It's not like people care much about the shape of her teeth now.
[/font] [/blockquote][/blockquote][/justify]
GETTING TO KNOW YOU
LIKES:
-Sunny mornings
-Music
-fast cars
-hot showers
-soft beds
DISLIKES:
-being around a lot of people
-hot days
-tight spaces
-rain
-being away from Marsha
STRENGTHS:
-fast
-persuasive
-a bit ruthless
-perseverance
-has some camping experience
WEAKNESSES:
- Can't say no to Marsha
- remains afraid of heights
-not always the best judge of character
-can miss important details because of her single-mindedness
- distrustful
SECRETS:
FEARS:
-Losing her younger sister
-that the world stays this way forever
-heights
-spiders/snakes
-getting locked into rooms
GOALS:
-raise her younger sister safely
QUIRKS:
HABITS:
-always double-knots her shoe laces
OVERALL PERSONALITY:
Vanessa will do anything and everything for her younger sister. However that doesn't mean she's selfless she is still selfish and manipulative fairly often. She just fell into a role she couldn't turn down. Marsha has nobody else so Vanessa couldn't bring herself to not care for Marsha.
Vanessa is very strong in a lot of ways. She's learn to handle a lot of situations because of the outbreak and it's made her harder and colder. She doesn't treat death the same way she used to. Not that she hadn't seen her fair share of death before, studying journalism she across quite a few tales of horror. Perhaps it was for that reason that she has managed to be so ruthless about keeping her and her sister alive.
In the end she is no superhero. Vanessa has a lot of faults and she isn't guaranteed to do the right thing she has a lot of fears to hold her back and she is constantly stressed. A lot of people will dislike her other will understand her and some she will manipulate into liking her. However because Vanessa is aware of her behavior she questions her relationships with others all the more.
[/font] [/blockquote][/blockquote][/justify]
EXPLAIN YOURSELF
HOME TOWN:
WHERE WERE YOU?: London
WHERE ARE YOU NOW?: outer limits of london
PARENTS:
Both parents are deceased
SIBLINGS:
-Marsha age 7/ sister/ alive
ANYONE ELSE?:
PETS: n/a
COMPLETE HISTORY:
Vanessa's parents had her when they were both young and sometimes struggled to raise her. She doesn't really blame them but she had it rocky growing up. Her parents learned from their mistakes though and Marsha was getting everything that Vanessa never got. Vanessa found that a little annoying but she still remained on good terms with her family. Even though she didn't live with her parents she did always stay with them for holidays.

She was living in a cheap apartment by herself and studying journalism at a fairly nice College. She wanted to be a breaking news reporter but she barely even knew about the abductions. The outbreak gave her a pretty big shock. Just when she thought she had seen everything.When the outbreak happened, she had to fight across town to get home. Unfortunately she was too late to save her parents but her kid sister had survived. The two hadn't been that close before because of their age difference but now they're all each other has.

They holed up in the house for a while before looking for an alternative base. It proved difficult to defend though and strategically it was hard to get in and out of to find supplies. It took a lot of effort to leave their home and they never really got attached to another place. Every place they tried to settle into ended up getting over-run or ruined by other survivors. They've been moving from place to place since then. Vanessa has gotten to know the area pretty well.

She's determined to make up for lost time and then some. Vanessa knows the Safe Lands would be 'Safer' for Marsha but Vanessa doesn't trust being around that many survivors. She's run into one too many a crazy survivor and thinks keeping on the move is the safest option.She is always expecting to hear news that the 'Safe' Lands have fallen as well.

She has teamed up with a few other bandits and outsiders. Only the ones that she can manipulate or who have proven themselves to be good for Marsha. Even so Vanessa usually fortifies a spot for just her and Marsha before anything else. All of the moving around is tough on Marsha but Vanessa can't seem to see it. Even though she can't replace her mom and dad tries as hard as she can to be everything Marsha needs. She is constantly on the look out for supplies.

[/font] [/blockquote][/blockquote][/justify]
BEHIND THE SCREEN
ALIAS: Crawl
AGE: 19
TIME ZONE: -5 GMT
ROLEPLAYING EXPERIENCE: 4-5 years
AVERAGE WORD LENGTH:
ROLEPLAY SAMPLE:.
[/font] [/blockquote][/blockquote][/justify]
CREDITS
This application was made by Kat, the admin, for London's Fallen. Stealing or adapting in any way will result in frowny faces and tutting.